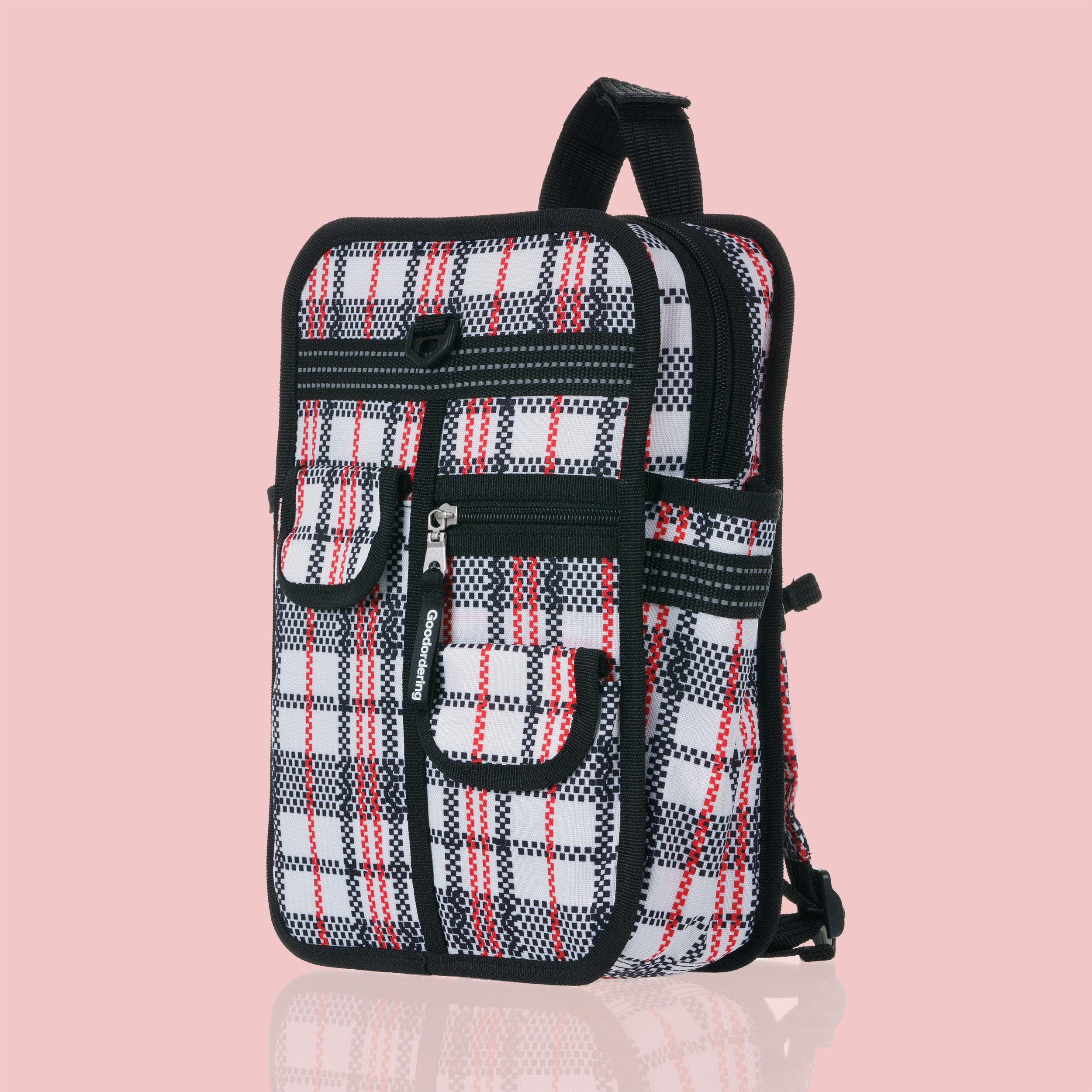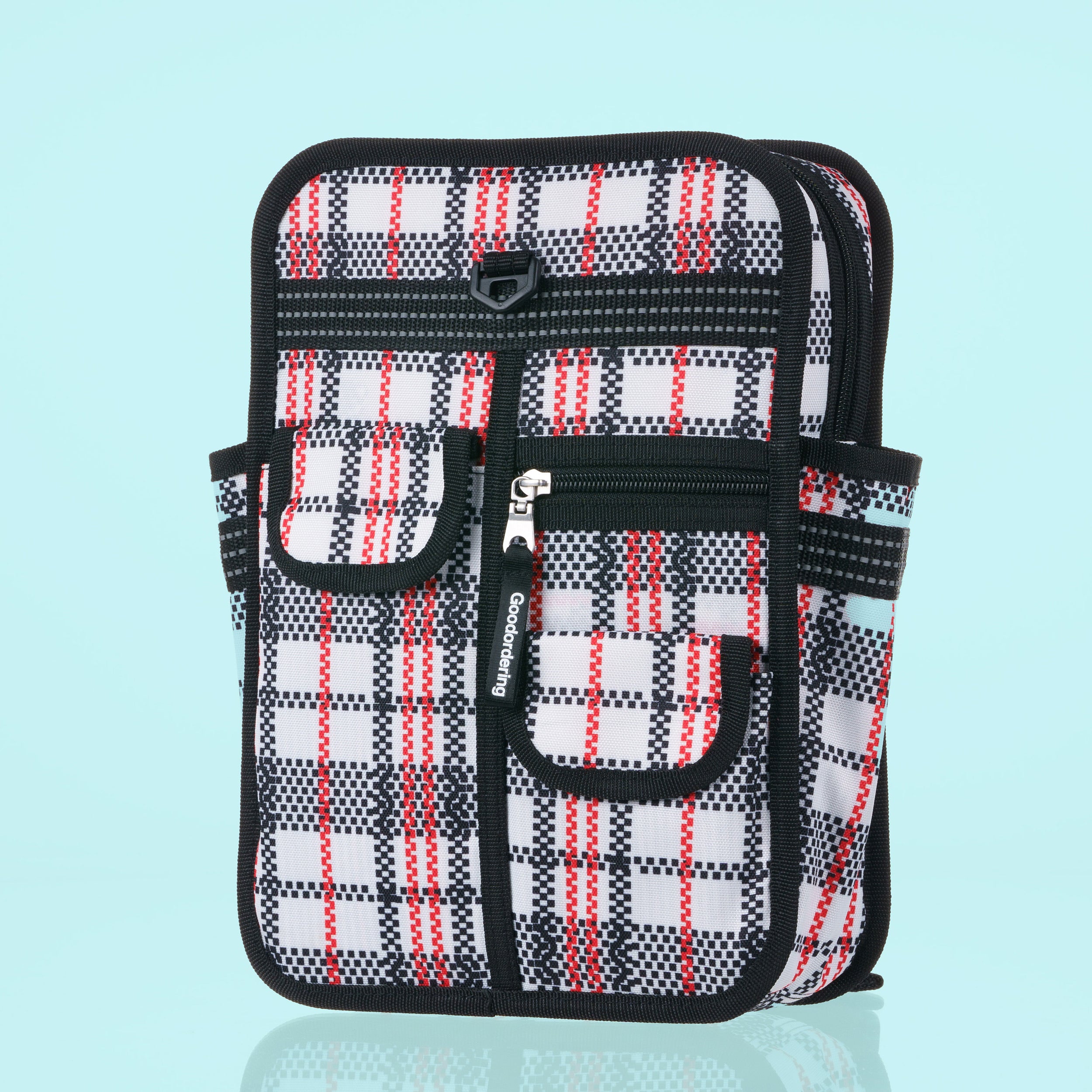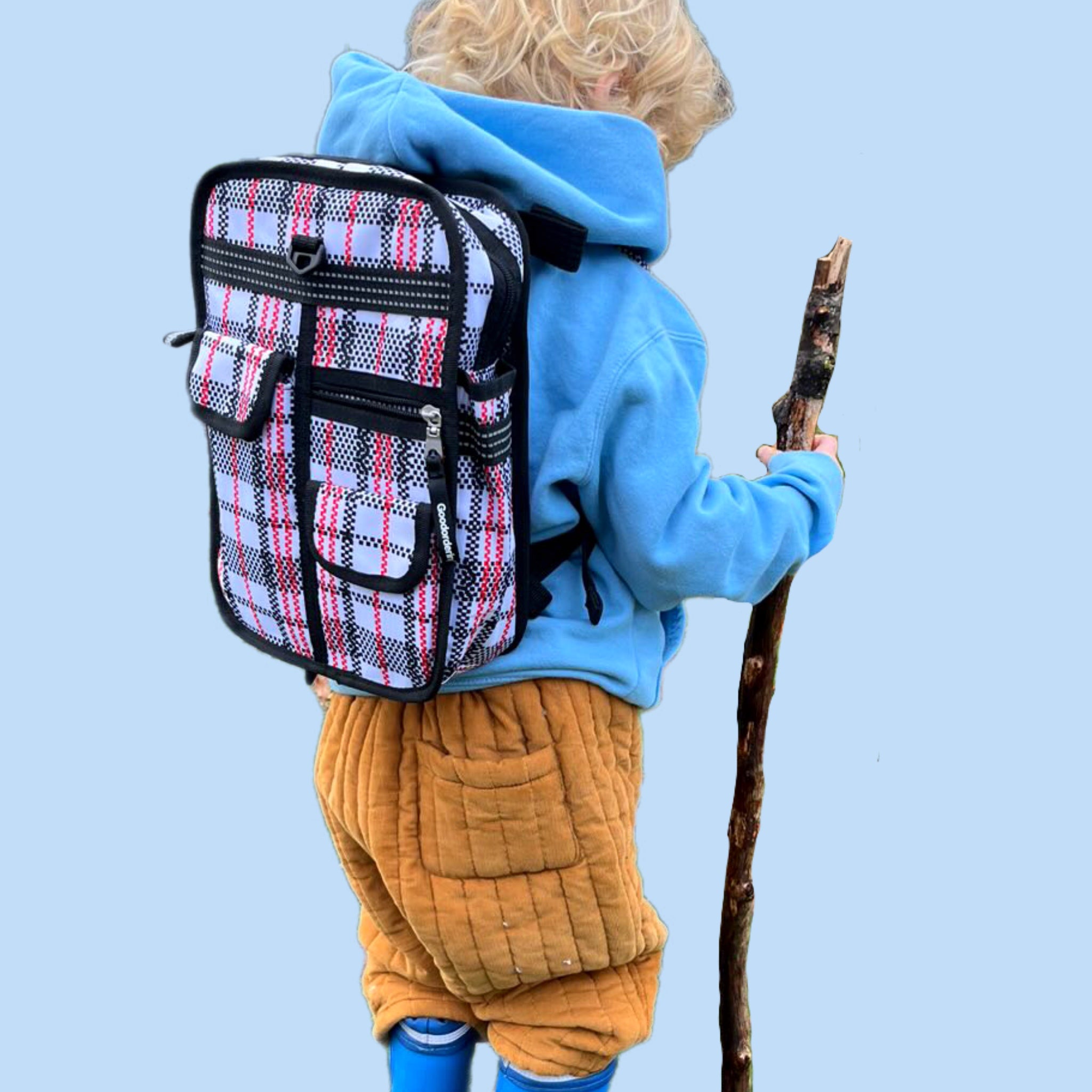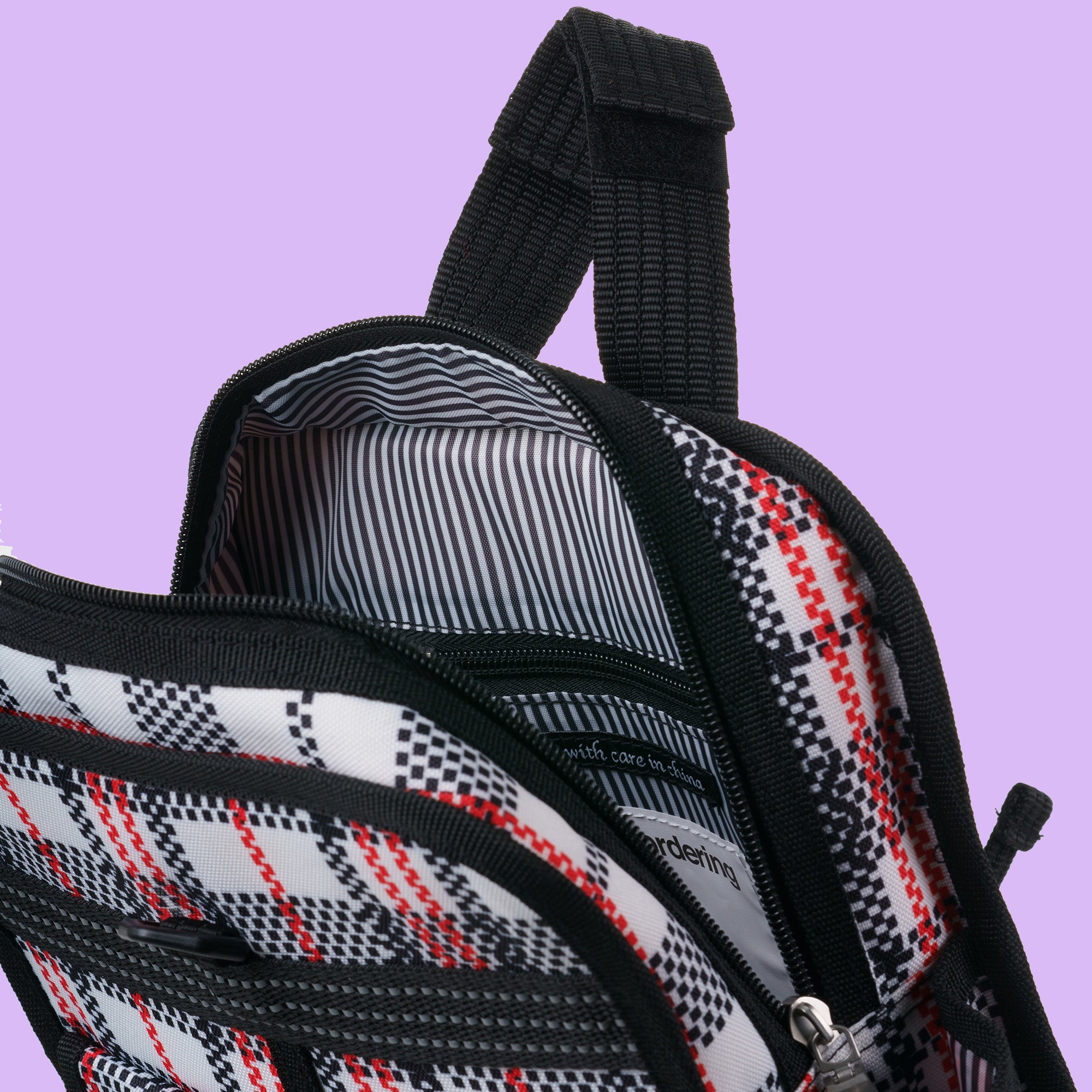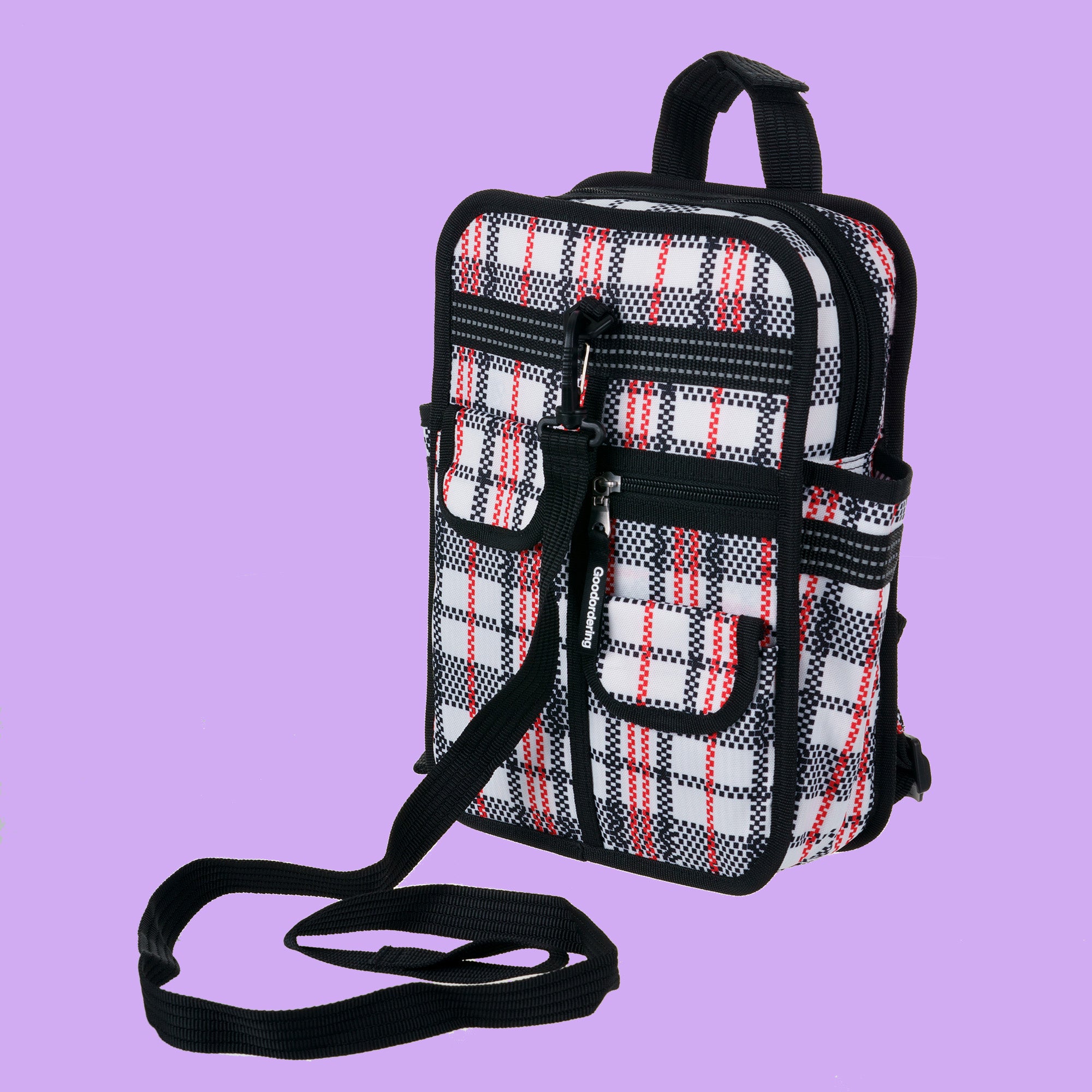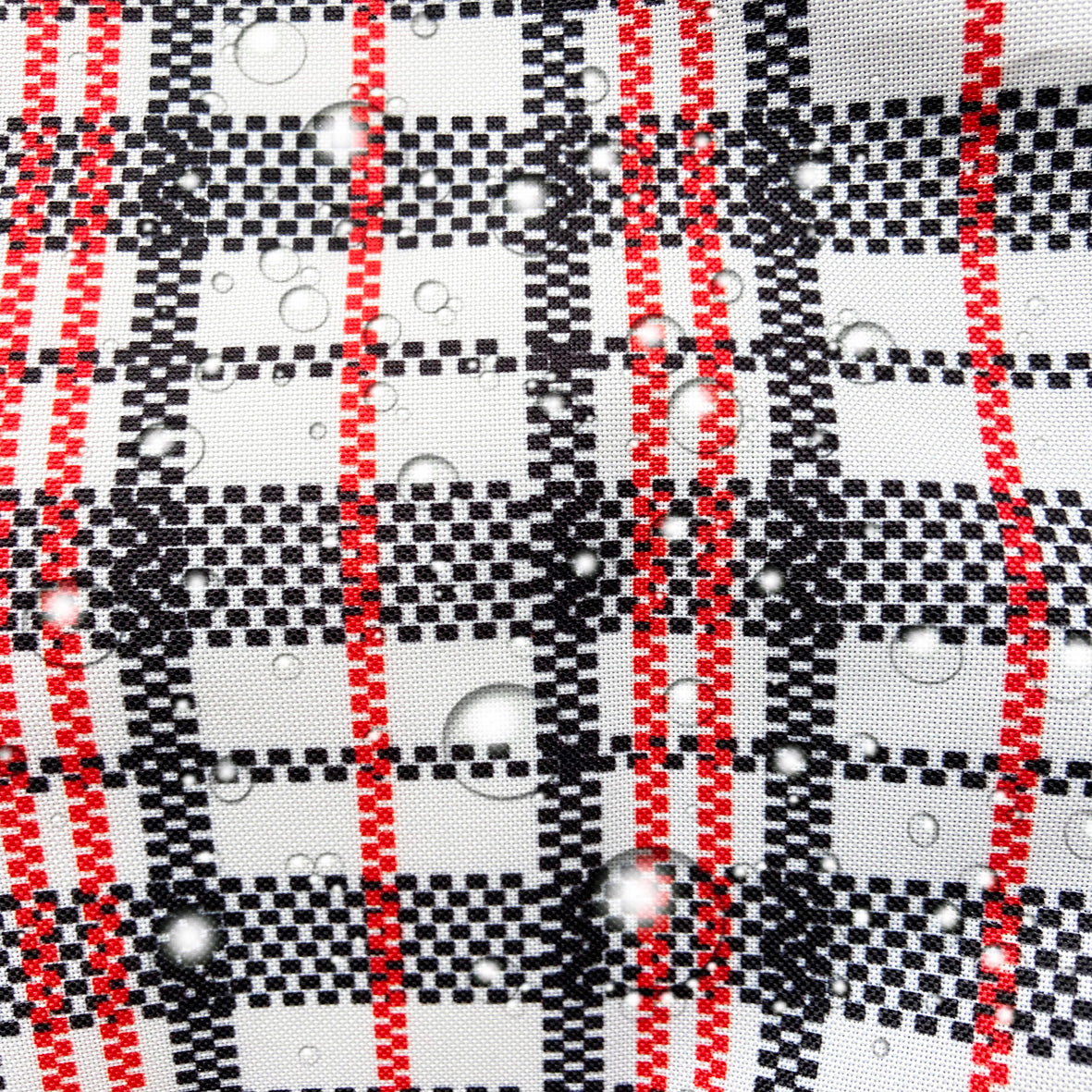 This Mini-me backpack is packed with functional features that make life easier travelling with a little one. But also great for adults and teens!
For kids, this is perfect for between ages 2-6 years, it is slightly larger than our previous mini backpacks from the classic range.
The bag features reflective strips for extra safety on all 3 panels (front and both sides) detachable safety harness and chest strap to keep the bag secure even over the thickest of winter jackets. The bag also features a unique strap construction which allows it to be attached to scooter handles.
The tartan range was inspired by the iconic laundry bag fabric. Known to everyone all around the world in slightly different guises, a travel bag, a laundry, a moving bag. Widely available and extremely affordable, the laundry bag is bought from any 2 dollar shop / pound store or corner hardware home store around the world. The familiarity of the woven fabric invokes a nostalgic feeling. We have re-invented this fabric for higher durability, converting the woven fabric into a print on a recycled nylon fabric. The result is sustainable and useful for everyday use, but will last a lot longer that the iconic bag that it is inspired by.
Details

Video

How it attaches
Returns
Returns
Dimensions: 30cm x 20cm x 8cm
Weight: 0.38kg
Capacity: 4.5L
You can cancel your order within 7 days no questions asked, you can return your bag in its original condition for 30 days and faulty products will always be dealt with generously. [more details here]
You can cancel your order within 7 days no questions asked, you can return your bag in its original condition for 30 days and faulty products will always be dealt with generously. [more details here]
Details
Dimensions: 30cm x 20cm x 8cm
Weight: 0.38kg
Capacity: 4.5L
Video
How it attaches
Returns
You can cancel your order within 7 days no questions asked, you can return your bag in its original condition for 30 days and faulty products will always be dealt with generously. [more details here]
Returns
You can cancel your order within 7 days no questions asked, you can return your bag in its original condition for 30 days and faulty products will always be dealt with generously. [more details here]
Tartan Mini Backpack Eco